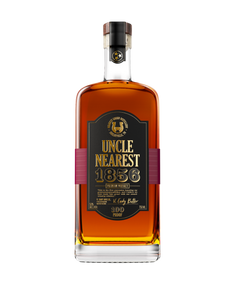 UNCLE NEAREST 1856 PREMIUM AGED WHISKEY
Regular price
Sale price
$59.00
---
Our inaugural whiskey, Uncle Nearest 1856 is a premium blend bottled at 100 proof. It has won over 125 awards since its debut in 2017 including, 'Best American Whiskey' from the New Orleans World Bourbon Festival and 'World's Best' from the World Whiskies Awards. Uncle Nearest is astonishingly smooth, and can be enjoyed neat, on the rocks, or in your favorite whiskey or bourbon cocktail.

In 2017, Uncle Nearest 1856 Premium Aged Whiskey launched in the United States. Honoring the first African American master distiller, this premium whiskey swiftly rolled out throughout the U.S. and abroad, and can now be found in 50 states, 12 countries, and shipped to over 148 countries in the world. Uncle Nearest is now the fastest-growing American whiskey brand in U.S. history.

Uncle Nearest Premium Whiskey has garnered nearly 400 awards and accolades since the brand's 2017 debut, including 48 Best in Class honors such as: "World's Best" by World Whiskies Awards, two "Chairman's Trophies" from Ultimate Spirits Challenge, "Spirit Brand of the Year" from Wine Enthusiast, "Top 5 Whiskies in the World" by Cigar and Spirits Magazine, multiple "Platinums" and "Double Golds" by SIP Awards, four "Double Golds" at the SF World Spirits Competition, as well as "Best American Whiskey" and "Whisky of the Year." Uncle Nearest is the Most Awarded American Whiskey or Bourbon of 2019, 2020 and 2021.


Available in: AZ, CA, CO, CT, DC, DE, FL, IN, IA, IL, LA, ME, MD, MN, MO, MT, NE, NV, NH, NJ, NM, NC, ND, NY, OK, RI, SC, SD, TX, WA, WV, WI, WY

AWARDS and ACCOLADES:
Best American Whiskey - New Orleans World Bourbon Festival
World Best- World Whiskies Awards
95 pts - Ultimate Spirits Challenge
96 pts - Tastings.com