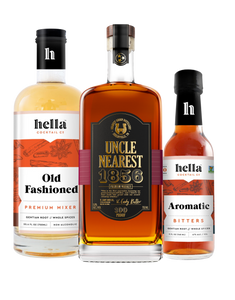 UNCLE NEAREST 1856 PREMIUM AGED WHISKEY OLD FASHIONED COCKTAIL KIT
Regular price
Sale price
$102.00
---
Our inaugural Straight Bourbon Whiskey, Uncle Nearest 1856 is an award-winning blend, bottled at 100 proof. It is astonishingly smooth and can be enjoyed neat, on the rocks, or in your favorite whiskey cocktail. This legacy-era bottling contains whiskey from our own barrels – distilled, aged and bottled in middle Tennessee – and we couldn't be more proud to share it with you.  
Uncle Nearest Premium Whiskey is the fastest-growing American whiskey brand in U.S. history. The brand, honoring the first known African American master distiller, launched in 2017 and swiftly rolled out to all 50 states throughout the U.S. and abroad. Our whiskeys are curated by fifth-generation Nearest Green descendant and our Master Blender, Victoria Eady Butler, who has been named Master Blender of the Year four times.
Uncle Nearest Premium Whiskey has garnered more than 620 awards and accolades throughout the world since the brand's July 2017 debut, including the coveted Double Gold award at the 2020, 2021 and 2022 San Francisco World Spirits Competition. Uncle Nearest has earned 71 Best in Class honors, including Spirit Brand of the Year from Wine Enthusiast, two Chairman's Trophies from Ultimate Spirits Challenge, Whisky of the Year from USA Spirits Ratings, the Master Medal from American Whiskey Masters, and back-to-back honors of "World's Best" from the World Whiskies Awards. 
This product is available in: AR, AZ, CA, CO, CT, DC, DE, FL, IA, ID, IL, IN, KY, LA, MD, ME, MI, MN, MO, MT, NC, ND, NE, NH, NJ, NM, NV, NY, OH, OK, OR, PA, RI, SC, SD, TX, VA, WA, WI, WV, WY.