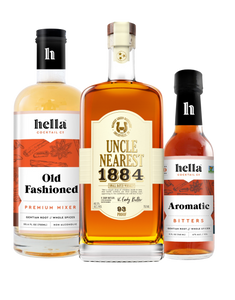 UNCLE NEAREST 1884 SMALL BATCH WHISKEY OLD FASHIONED COCKTAIL KIT
Regular price
Sale price
$96.00
---
Uncle Nearest 1884 Small Batch Whiskey is a 93-proof whiskey distilled, aged and bottled entirely by Uncle Nearest. Each batch is curated by 5th generation Nearest Green descendant and our Master Blender, Victoria Eady Butler, who has been named Master Blender of the Year four times over.

1884 Small Batch presents with a lively nose of honey, warm brown sugar, cedar, orange peel, tobacco flower, ground ginger and white pepper. On the palate, it warms, showing caramel balanced with spicy wood tannins, with notes of baking chocolate, cigar leaf, nougat and cinnamon. The finish is long and smooth. The cinnamon lingers with dark chocolate, oak tannins and maple syrup. A fantastic sipper, yet versatile enough for all your favorite cocktails.

Uncle Nearest Premium Whiskey is the fastest-growing American whiskey brand in U.S. history. The brand, honoring the first known African American master distiller, launched in 2017 and swiftly rolled out throughout the U.S. and abroad.

Uncle Nearest Premium Whiskey has garnered more than 620 awards and accolades throughout the world since the brand's July 2017 debut, including the coveted Double Gold award at the 2020, 2021 and 2022 San Francisco World Spirits Competition. Uncle Nearest has earned 71 Best in Class honors, including Spirit Brand of the Year from Wine Enthusiast, two Chairman's Trophies from Ultimate Spirits Challenge, Whisky of the Year from USA Spirits Ratings, the Master Medal from American Whiskey Masters, and back-to-back honors of "World's Best" from the World Whiskies Awards.
Includes: One (750ml) Bottle of Bottle of Uncle Nearest 1884 Small Batch Whiskey, One (750ml) Bottle of Hella Cocktail Old Fashioned Mixer, and One (5 oz) Bottle of Hella Cocktail Aromatic Bitters.
Available in: AZ, AR, CA, CO, CT, DC, FL, IN, LA, ME, MD, MO, MT, NE, NV, NH, NJ, NM, NC, ND, OK, RI, SC, SD, WA, WV, WI, WY