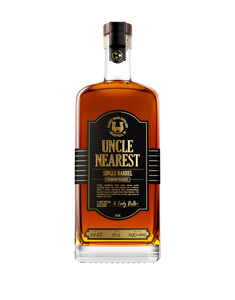 UNCLE NEAREST SINGLE BARREL WHISKEY
Regular price
Sale price
$89.99
---
Premium Single Barrel Whiskey from the Most Awarded American Whiskey or Bourbon brand of 2019, 2020 and 2021. 

This single barrel is different. It has the most distinct flavor profile of any of our whiskeys and was bottled at barrel strength to capture every nuance of this one-of-a-kind spirit. Our distillery's triple filtration process ensures perfection in every sip. Distilled, aged and bottled in middle Tennessee, home of premier master distiller and teacher, Nearest Green.
The smooth character of our whiskey is what distinguishes it from all others. The legacy of our namesake is what makes it unrivaled.
This product is available in: AZ, CA, CO, CT, DC, DE, FL, IL, IN, KY, LA, MD, ME, MN, MO, MT, NC, ND, NE, NH, NJ, NM, NV, NY, OK, RI, SC, SD, TX, WA, WI, WV, WY