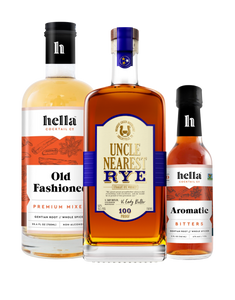 UNCLE NEAREST STRAIGHT RYE WHISKEY OLD FASHIONED COCKTAIL KIT
Regular price
Sale price
$99.00
---
Uncle Nearest Straight Rye Whiskey
100 proof Straight Rye Whiskey from the Most Awarded Bourbon or American Whiskey brand of 2019, 2020, 2021, and 2022
This was a lofty experiment that worked. The results of this 100-percent rye mash bill, matured in used Uncle Nearest barrels before being bottled at 100-proof, keeps with our tradition of creating some of the most awarded whiskeys in the world. This is rye whiskey, elevated, hitting every mark with its rich flavor profile, incredible balance of spices, and extraordinarily smooth finish.
---
Hella Cocktail Old Fashioned Cocktail Syrup
This quintessential and storied old fashioned cocktail recipe has infinite variations, many inspired by regional ingredients. This premium cocktail syrup makes it easy to mix a proper Old Fashioned that is delightfully well balanced. Feel free to substitute a bourbon cocktail recipe for any aged spirit like rum or tequila.

DETAILS
• Made in: USA
• Gluten Free
• Vegan
---
Hella Cocktail Aromatic Bitters
The old fashioned is your elder. Show some respect.

Our Aromatic bitters are really well balanced. They have the quintessential aromatic notes of cinnamon, clove and Jamaican allspice with the depth and kick of black peppercorns and caraway. By using wormwood in addition to Gentian root the bitter finish is prominent and complex without being overwhelming. A true classic.

DETAILS
• Made in: USA
• Gluten Free
• Vegan
This product is available in: AR, AZ, CA, CO, CT, DC, DE, FL, IA, ID, IL, IN, KY, LA, MD, ME, MN, MO, MT, NC, ND, NE, NH, NJ, NM, NV, NY, OH, OK, PA, RI, SC, SD, TX, VA, WA, WI, WV, WY.